Alpha and Omega 2: A Howl-iday Adventure
Comments

16
Alpha And Omega 2: A Howl-day Adventure



Director

Richard Rich

Written

Tom Kane

Release Date

October 8, 2013 (US), October 7, 2014 (re-release) (US)

Running Time

45 Minutes

Preceded by

Followed by
Alpha and Omega 2: A Howl-iday Adventure is a 2013 3D American computer-animated action comedy film. It is the sequel to Alpha and Omega and is the second installment in the franchise. Originally planned for a wide theatrical release following the success of the first film, it was released on DVD instead on October 8, 2013 nationwide and worldwide by Lionsgate. Lionsgate re-released the film in October 7, 2014.
The entire voice cast from the previous film didn't reprise their roles. However, like the original film, Alpha and Omega 2: A Howl-iday Adventure proved to be a wide success upon its release and also gained a cult following. The film was nominated for an Annie Award for Best Straight-to-DVD Sequel.
Plot
Humphrey (Ben Diskin), Kate (Kate Higgins), and their 3 new pups Stinky (Kate Higgins), Claudette (Lindsay Torrance), and Runt (Liza West) are happily preparing to celebrate their first winter together when Runt mysteriously disappears. They must now go on a new journey across the wilderness to find Runt and bring him back before the winter festivities begin at their home. While their adventure does not end exactly as planned, Kate & Humphrey discover that "Home is where the Family is".
The story begins when Stinky, Claudette, and Runt went to the path where Kate and Humphrey sled to rescue Kate's father and Tony from a caribou stampede. Somehow, the topic of uniqueness comes up and Runt decides to show his uniqueness by climbing up a tree and notices three wolves from the Banff pack (rogues) heading their way. As two of the rogues, Stinky, and Claudette chase off a bear, the third rogue kidnaps Runt.
Meanwhile, Humphrey and Kate are preparing the den for dinner with their pups, Winston, Eve, Tony, Garth and Lilly for the holidays.
Voice cast
Bonus features
US
A Wolf's Tale: The Making of Alpha and Omega 2
Personality Test: Are you an Alpha or an Omega?
Wolf Fun Facts Trivia
Following the Pack: Sneak Peek into Upcoming Alpha and Omega Adventures
UK
A Wolf's Tale: The Making of Alpha and Omega 2
Following the Pack: Sneak Peek into Upcoming Alpha and Omega Adventures
Trivia
For the United States, the film was released on DVD and Blu-ray as a Walmart Excusive. It is also available for Digital Download.
Despite being a sequel, the film is sometimes thought to be a Christmas special. It also was released before Christmas, so some people could get confused.
Production
Production for the film began a week before the release of the first film when Steve Moore wrote a script draft for the film. The film was originally set for a theatrical release, but due to many problems, it was changed to have a straight-to-DVD release. Ben Gluck, who co-directed the first film with Anthony Bell, was originally set to solo direct the sequel. But there was another production scandal, and Gluck turned down as director. For that, he has an uncredited role in the film. The film was officially announced in July 31, 2013 that it would have a straight-to-DVD release in October 8, 2013 in North America. Richard Rich took over as director and the film stars a cast of mostly unknown voice actors.
Reception
Alpha and Omega 2: A Howl-iday Adventure received mixed reviews from both critics and fans. The movie was praised for its voice acting, characters and ending climax, but was heavily criticized for its animation and too-short runtime. The movie currently holds a 53% rating in Rotten Tomatoes and a 50 out of 100 in Metacritic, indicating "generally mixed reviews". However, despite the mixed reaction, the movie became an unexpected success with fans and DVD sales, and developed a cult following.
Home media
Alpha and Omega 2 was released on October 8, 2013 on DVD (as a Walmart Exclusive), Blu-ray and Digital HD. Lionsgate is re-releasing the DVD on October 7, 2014 possibly making it a not Walmart Exclusive.
Trailer and Clips
Official trailer
Sneak peek clip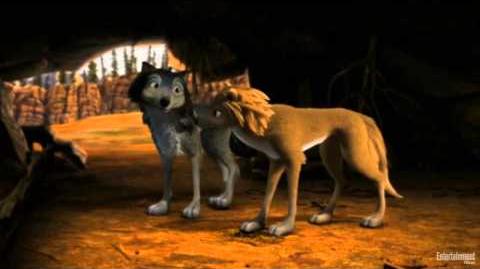 Second sneak peek clip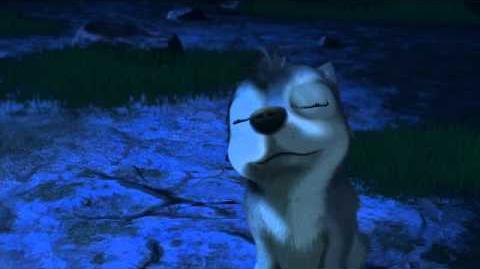 Awards and Nominations
Award
Category
Winner/Nominee
Result
Annie Awards
Best Straight-to-DVD Sequel
Alpha and Omega 2: A Howl-iday Adventure
Template:Nom
Best Ending Climax
Alpha and Omega 2: A Howl-iday Adventure
Template:Won
Kids Choice Awards
Best DVD Cover
Alpha and Omega 2: A Howl-iday Adventure
Template:Won
As-Seen-By Awards
Best Leading Voice in a straight-to-DVD Sequel
Ben Diskin
Template:Nom
Sequels
In the DVD and Blu-ray release of Alpha and Omega 2: A Howl-iday Adventure, it has been announced that there will be a third and fourth film in the franchise due to the success of the second film.
Alpha and Omega 3: The Great Wolf Games was released on March 25, 2014 with Richard Rich returning to direct. As of now, it's the only sequel to have Claudette as the main character. Despite Common Sense Media giving the film a mostly mixed-to-positive review (3 out of 5 stars), The Great Wolf Games received generally poor reviews from most fans and it's been declared to be the worst chapter of the franchise. Most criticisms were focused on the film's script and animation, but the biggest complaint was that most of the original characters were missing in the movie and Kate was only in it for the last 10 minutes.
Alpha and Omega: The Legend of the Saw Tooth Cave had its worldwide DVD premiere on October 7, 2014. This sequel is set during the Halloween season, where Runt explores the haunted Saw Tooth Cave and finds a blind female wolf who was driven from her pack for being different. Unlike The Great Wolf Games, this fourth movie was highly acclaimed by fans of the franchise, who call it the best sequel so far. Professional critics were also impressed with the movie, noting its action scenes, voice acting, character development, emotional depth and darker tone.
Alpha and Omega: Family Vacation first aired on TV in Mexico on March 28, 2015. This fifth movie deals about Kate and Humphrey taking the pups to Alfred Creek Falls for a family vacation. But everything goes wrong when they find themselves in a cross-country chase after two wolf trappers spot them. Upon its air, the Mexican version of Family Vacation was generally well received. The movie's currently expecting a U.S/worldwide DVD release sometimes in August 2015.
On April 8, Lionsgate and Crest Animations officially announced that they'll be teaming up with Splash Entertainment to make three more sequels after Family Vacation. The sixth movie - currently titled Alpha and Omega 6 - is expecting an early 2016 release.
References
External links
DVD