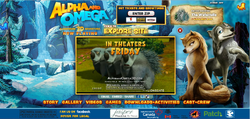 Information
Alphaandomega3d.com/index.html is a website created in October 1st, 2010, currently featuring the Alpha and Omega movie. This website is hosted in the United States of America, and is still running today.
Trivia
The DVD is not available for purchase through this specific domain.
You can try to search for tickets nearby your zip-code, but it is impossible to actually get tickets, as Alpha and Omega is a movie that is approximately 6 years old, and it is not in theaters anymore.
There is a section with printable Alpha and Omega-related stuff.
There is a games section, featuring:
Ad blocker interference detected!
Wikia is a free-to-use site that makes money from advertising. We have a modified experience for viewers using ad blockers

Wikia is not accessible if you've made further modifications. Remove the custom ad blocker rule(s) and the page will load as expected.