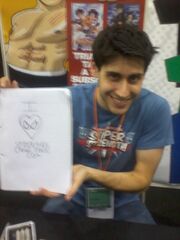 Benjamin Isaac "Ben" Diskin is an American actor, voice actor and comedian. He is best known voicing as Numbuh 1 and Numbuh 2 from Codename: Kids Next Door, Sai from Naruto Shippuden, Shoutmon, Cutemon from Digimon Fusion, Eugene Horowitz from Hey Arnold!.
He currently performs the voice of Humphrey in Alpha and Omega 2: A Howl-iday Adventure, Alpha and Omega 3: The Great Wolf Games, Alpha and Omega: The Legend of the Saw Tooth Cave, Alpha and Omega: Family Vacation, Alpha and Omega: Dino Digs, Alpha and Omega: The Big Fureeze, and Alpha and Omega: Journey to Bear Kingdom.
Ad blocker interference detected!
Wikia is a free-to-use site that makes money from advertising. We have a modified experience for viewers using ad blockers

Wikia is not accessible if you've made further modifications. Remove the custom ad blocker rule(s) and the page will load as expected.