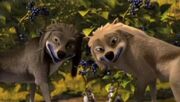 Berries are mentioned three times in the movie. Reba and Janice are seen eating berries after the scene of Humphrey, Salty, Shakey, and Mooch logboarding. When Kate loses her hunt. Humphrey and Humphrey's Little Group offer berries, but Kate replies with "Say that to a hungry pack". The last time berries are seen is when Salty, Shakey, and Mooch play monkey in the middle with a berry, Mooch being the monkey.
Berries reappear in this movie only once. Humphrey and Salty go out to find berries, and bring them back for dinner at the den.
Trivia
In the first movie, Humphrey does not really like berries, but in the second movie, but after finding out the berries he ate before were fermented, he all of a sudden likes berries.
Ad blocker interference detected!
Wikia is a free-to-use site that makes money from advertising. We have a modified experience for viewers using ad blockers

Wikia is not accessible if you've made further modifications. Remove the custom ad blocker rule(s) and the page will load as expected.