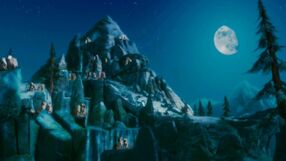 Howling Rock is the name of the mountain where wolves of the 
Eastern
and
Western
 packs meet to socialize, dance, and howl under the moon, these events being called
Moonlight Howls
.
A rule regarding Howling Rock is that Alphas and Omegas are not allowed to howl with each other (at least not until the end of the movie).
It appears that this location is not in the sequels. 
Trivia
The movie ends in this location, the last frame being the moon.
Ad blocker interference detected!
Wikia is a free-to-use site that makes money from advertising. We have a modified experience for viewers using ad blockers

Wikia is not accessible if you've made further modifications. Remove the custom ad blocker rule(s) and the page will load as expected.