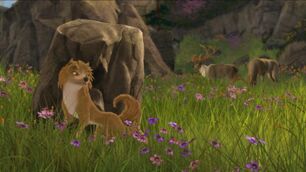 Kate`s hunting group is made up of the leader
Kate
,
Hutch
,
Can-do
, and two other wolves. They're seen hunting caribou soon after the opening title, only to lose the hunt to 
Claws and Scar
. A fight breaks out directly as a result of this.
Humphrey
, along with
Salty
,
Shakey
and
Mooch
, break up the fight by dropping Mooch on the fighting wolves.
"Humphrey we don`t have time for fun!" - Kate.
Then Mooch gets thrown in the air and lands on the two fighting packs and breaks them up.
Known Members