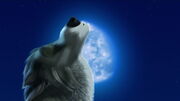 The Moonlight Howl is a wolf-kind prom, raves, or party. Mates go here to sing, dance and howl the full moon. It is also where wolves go to find mates, as Kate had to meet Garth. This was implied when Humphrey said he and his friends would go to The Howling Rock "for the girls."
The first Moonlight Howl, Kate was made to go to howl with Garth, the son of Tony from the East pack, agreed and the two went to howling, Kate was just that Garth had a terrible howl, which caused the birds to fall from the sky dead and had also his head stuck in efficiency. When Garth howled really bad, Kate appears a little embarrassed.
The second Moonlight Howl was much better. Lilly and Garth howled together, surrounded by birds, which do not fall from the sky, when Garth howled.