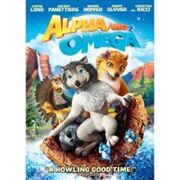 Hello all Alpha and Omega Fans! Here is a little blog about some stuff to do with Alpha and Omega.
One year of A&O on DVD!
Last week on the 11th was Alpha and Omega's one year release for dvd in the U.S.! Boy it went by fast!
Feaured Character Of January
Kate
won with exactly 21 votes! Her's a little gallery to celebrate her victory. Help vote for Febuary's featured character on the main page!
New Stuff Around the Wiki
We are going to return article comments very soon! Don't abuse the comments feature or we will disable commenting again. Also, you may have noticed, but we are making character galleries around the wiki! If you notice we forgot to make a gallery or two, go ahead and make it!
Thanks For Reading!
Thanks for reading January's new edition of Alpha and Omega Wiki News! Happy editing! - KateWolf
Ad blocker interference detected!
Wikia is a free-to-use site that makes money from advertising. We have a modified experience for viewers using ad blockers

Wikia is not accessible if you've made further modifications. Remove the custom ad blocker rule(s) and the page will load as expected.